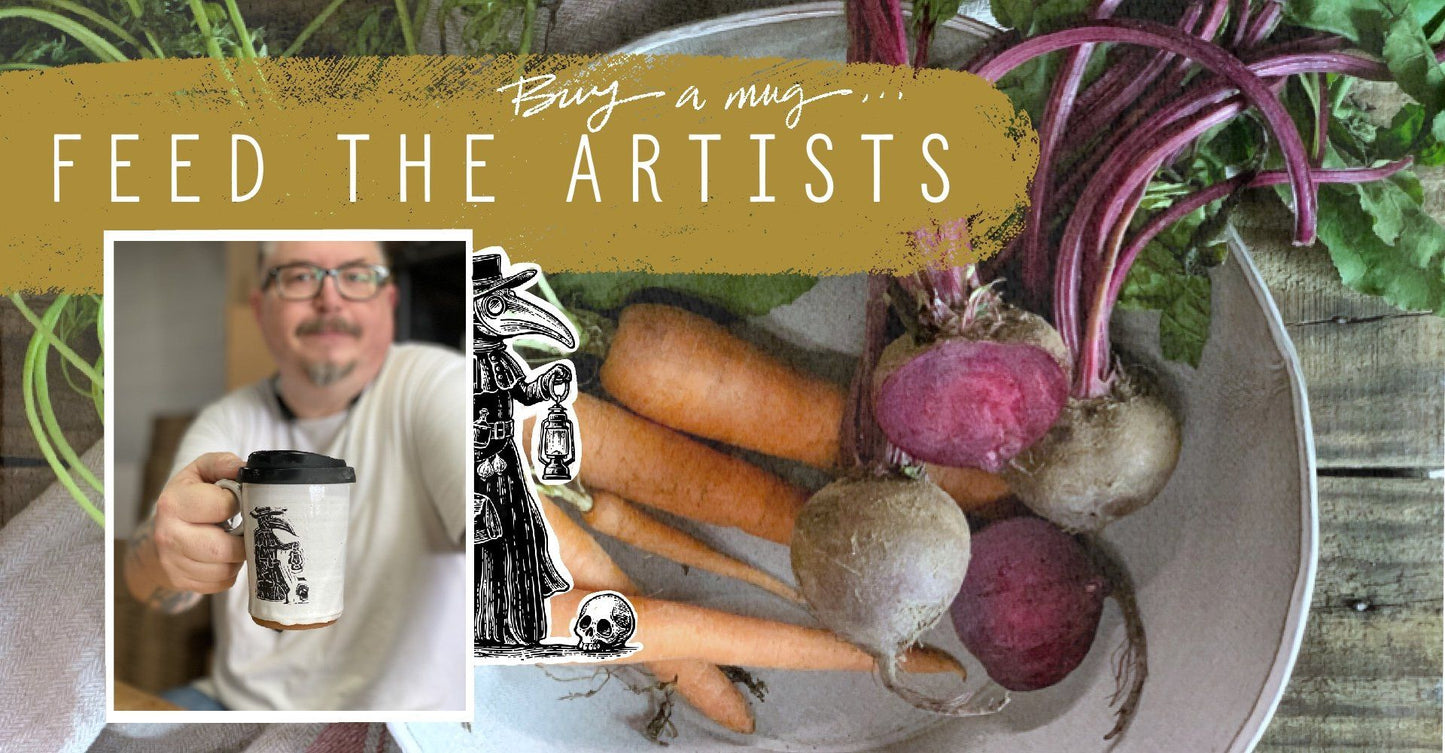 It was 2 am.
I desperately wanted to sleep but as the news kept rolling in from so many friends who make a living as artists, musicians, dancers, writers, actors and designers had lost all their income-earning gigs because of the world-wide pandemic caused by Covid-19, my mind wouldn't let go.
Something had been niggling at the back of my mind for hours. Years ago my friend Christi said to me, "I just want to feed people." It ties in to everything that I do with pottery - the intention to provide the plate, bowl or mug that every meal is eaten from. I realize, I love to feed people, too. It's part of what drives me. The idea of sitting around with loved ones, or hell, even alone, chowing down on something delicious...that just gets me all sorts of inspired.
On that note, at 2 am, I knew what I wanted to do. We had a batch of mugs sitting on the shelf at the studio and I have this vintage etching of a plague doctor that I've used a couple times on pots (including last halloween when they were featured in Indy Monthly Magazine). It's time to resurrect the plague doctor and put him on some mugs with the intent of keeping my team employed and using a portion of the sales to purchase fresh food boxes for artists impacted by job loss from the pandemic.
When I woke the next morning we had sold a dozen mugs. By dinner time we'd sold enough to feed 12 artists with a week's worth of fresh produce, eggs and chicken. By the next day at 5:00, we had sold enough Plague Doctor mugs  that with Jason Michael Thomas's help we were able to feed 32 artists. (Update: as of 4/20 we are nearing 80!)
While it may not be continuing at the same breakneck speed, the response to the Plague Doctor mugs inspired a whole series of projects using a  portion of the sale to purchase fresh food for artists in Indianapolis.
The best part of all of this is that in addition to feeding our friends so we can at least take that one stress off their proverbial plates, we've also been able to keep the Gravesco Pottery crew of 8 working. This means that we won't be filing for unemployment and are in a unique position to continue helping others.
Even better, we've partnered with Jason Michael Thomas of Urban Awareness Gardens Indianapolis who is famous for his farm to table meals and supporting local, sustainable and whole foods. He's putting together the food boxes for us which is helping to keep him and his crew and his farmers working.
Update 4/21: 
Circadian Coffee reached out with bags of fresh roasted ground coffee for our food boxes. 
Edible Indy is donating $2 from the sale of every magazine subscription to our project and also gave us copies to add to our orders and food boxes!
Circle City Kombucha has gifted a bundle of cans of fresh Kombucha for our artist fresh food boxes, too!
Krista Bermeo Glass has joined us offering the limited edition Hole In My Heart black heart glass necklace on sterling silver
Followers are sharing our posts all over social media which has helped us spread the word and feed even more people!
Update 4/24:
Update 8/12:
Requests for food boxes from Indianapolis area artists has begun to slow down. At the end of each month any remaining funds will be paid forward to a food bank or school lunch program in our city's neighborhoods.
We're not looking to make a profit on this project. It's all about passion. It's all about job security and food security.
We hope you'll join us and help #feedtheartists by purchasing any of the items in our Feed the Artist collection or, if this isn't the right time to be shopping for you, share the products on your social media feed. Every share helps us get the word out and feeds more artists!
I know we're all struggling with the stress of the pandemic and fear of the uncharted waters we're in. Let's all take a moment to express gratitude for one thing good each day and do what we can, within our power and emotional capability, to help an artist. 
To shop #feedtheartists click here or use the menu button up at the tippy top of the page.
Apply for a #feedtheartists Fresh Food Box here.
You are appreciated.
-Rebecca