Meet the Makers
Forget about traditional matching dinnerware: I'm not your average potter.
My name is Rebecca.
I am a mold breaker whose work is driven by intentional choices, client partnerships, and a love of design that truly functions.
In addition to offering a full line of functional ceramics, I love to collaborate with other businesses to create statement pottery that enhances their brand.
Good design and function motivate me to keep creating new pottery that is intended for every day use. Each choice made during the design process is completely intentional. Choices like the angle and the curve, the shape of the lip, the way the handle fits your hand, the clay and glaze used. No detail is left to chance because it is deeply important to me that you love your handmade pottery for years to come and those little nuances make a big difference.
My background is varied. I've always made things. From the age of two years old I've been a maker and even a two decade long stint in corporate retail couldn't squash my passion for making things in a variety of mediums. As for pottery, I've had my hands in clay since 2010 and once I dug in, I've never looked back.
February 1, 2018, we moved from our little lake cottage in Angola, Indiana to the big city of Indianapolis, Indiana. The new Gravesco Pottery studio is now located in the Ruckus Makerspace Micro-manufacturing building on Mass Ave right in the heart of Indianapolis. It has been beyond exciting to grow our studio space and live in such a bustling hub of creative city living.


When we initially opened the studio here in Indianapolis, Mackenzie joined as a part time studio assistant. Here we are a few years later with a team of twelve and we're sending our handmade pottery all across the world. We've been featured on the cover of Edible Indy magazine, on WISH TV 8, Indianapolis Monthly, Pattern Magazine, Indy Star, Indy Style and an episode of Good Bones featured one of our mugs. Our partnership with Jason Michael Thomas continues to grow and is always an inspiration focused on healthy, locally produced foods. I work closely with Deb Swingholm of Flowering Moon to create one of a kind ritual objects that are thoughtfully and intentionally designed. We have been delighted to partner with local and global clients like Howl & Hide, MALK, Google Women, and we have so much more in the works. You can find our work in over 500 shops across the United States and Canada and now we're focused on bringing even more pottery goodness to you directly.
Now that we have a great crew working in the studio with me, and we have a new, bigger studio space to accommodate more potters, collaborative artists and even more production we will continue to grow. It is my goal to continue to be a truly handmade studio with every step of the process coming from the hands of some really terrific humans.
Each member of the Gravesco Pottery team brings their own element of personality to everything we make and as a leader in this studio, I wouldn't want it any other way. We take care of each other. We inspire each other. We love what we do and we hope that is evident in every piece of pottery you come into contact with.
And on that note, I'd love to introduce you to the team!
Studio Managers
Meet our amazing team of studio managers. They're each the experts in their specialties. It is always my goal to have each team member working within their own particular zone of genius so they can shine their brightest.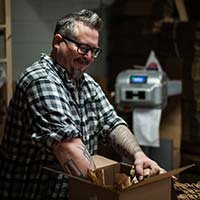 Chris is our shipping manager and keeper of all things Rebecca forgets. He also assists in managing studio operations, production planning and wholesale customer service.
Chris
Mackenzie is one of our studio co-managers and expert Glaze Goddess. She is responsible for finishing, glazing, pulling orders, loading kilns and helping where needed
Mackenzie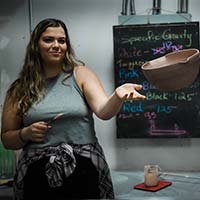 Abby is a studio co-manager, hand builder, trainer and all around studio people person. She's always ready to step in wherever we need her in the studio.
Abby
Justin is the Gravesco Brand Manager, leading the brand vision in our graphic design and online presence. He's also our on-site tech guy working on tool design, laser projects and any other fun things we manage to toss his way.
Justin
The Studio Team
Each person who joins the team as a studio assistant works in all the areas and eventually settles in their own zones of genius doing the things they excel at.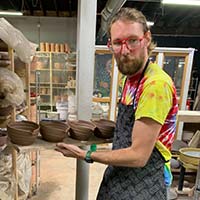 Nick is a studio tech and also has his own pottery studio - NW Pottery. As an experienced studio potter, he pops into whatever tasks we need on any given day from trimming to glaze mixing, hand building or clay making. Nick's ebullient personality uplifts everyone on the team and that positive energy can be felt in every pot.
Nick
Kassie is a studio assistant who brings a wildly varied set of skills to the studio. Her exploratory nature inspires looking at process with a fresh eye and her desire to investigate the relationship of human nature through sculptural and print media will have a positive impact on the process and outcome of every project in the studio.
Kassie