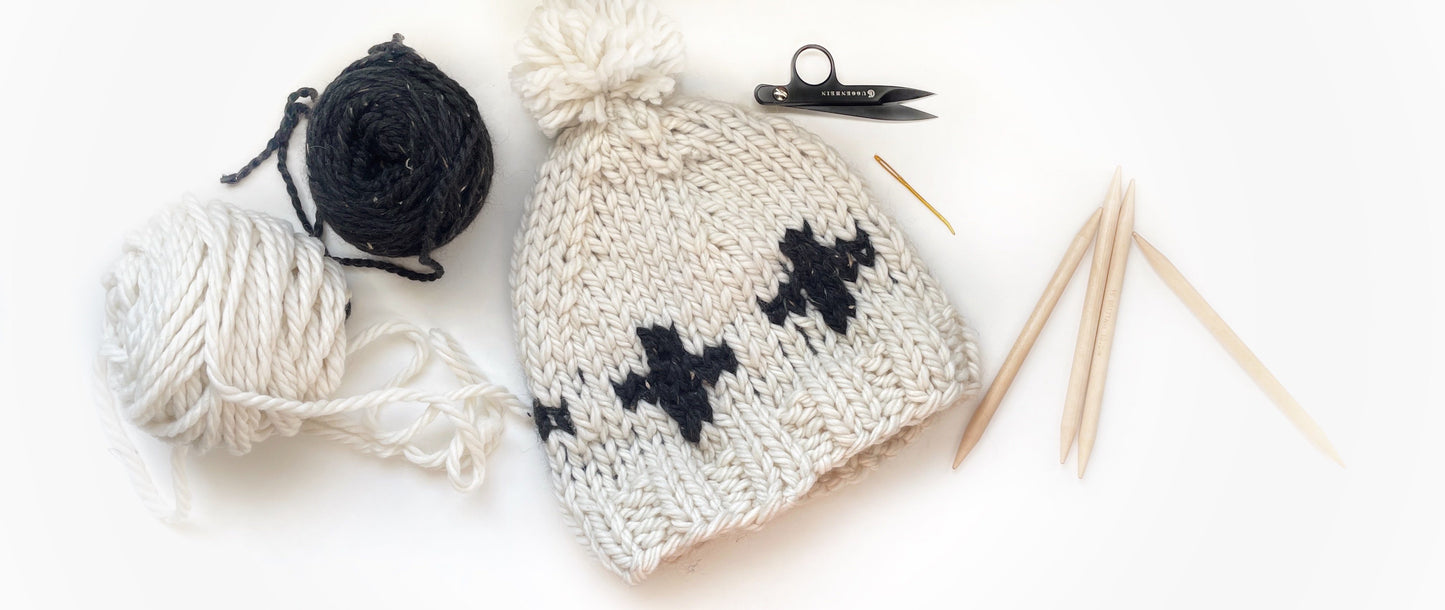 Swiss Crosses are an obsession of mine this year. I love the message of neutrality and peace in a world so obviously divided on social media. The black and white simplicity always delights me. There is something so delicious about the classic combination and this super bulky yarn adds a modern, fun twist.
Before I was a potter I made a living writing patterns for hand knitters. While now all my knitting and fiber arts are only for my own pleasure, I do enjoy sharing these patterns with you to knit them yourself. 
I'd love to see your finished hat! Tag me @gravesco on Instagram and I'll share your knit in my stories.
Happy knitting!
What you'll need:
Super bulky yarn 80 yards main color
Super bulky yarn 20 yards accent color
Size 15 circular needles (16")
Size 15 double point needles 
Tapestry needle for weaving in ends
Stitch marker
Notes: the pattern is worked over 8 stitches so if you need to make the hat bigger or smaller simply add or subtract 8 stitches and you're good to go with no other changes.
For a children's size hat use a bulky yarn and size 10.5 needles with the same pattern and it should fit just fine.
It also looks great in the reverse - a black or dark grey main color and white cross pattern.
If you don't have a super bulky yarn, hold together 2 strands of bulky weight yarn or 3 strands of worsted weight and you're good to go.
If you desire, you can save the image of the chart to your phone or tablet so it's handy as you knit.
Cast on 40 sts, pm, join. 
Work 4 rounds in k2p2 rib.
K 3 rounds.
Work 6 rounds using chart and 2 colors with your favorite fair isle technique.
K 4 rounds.
Begin decreases. When the stitches become too tight for the circular needles switch to double point needles. 
*k6, k2tog, repeat from * to end of round
K
*k5, k2tog, repeat from * to end of round
K
*k4, k2tog, repeat from * to end of round
K

 

*k3, k2tog, repeat from * to end of round
K
*k2, k2tog, repeat from * to end of round
K
*k1, k2tog, repeat from * to end of round
K
*k2tog, repeat from * to end of round
Cut a long tail (I usually cut a 10-12" tail) and using the tapestry needle slip the remaining stitches off the knitting needles and onto the tapestry needle and tail. Once all the stitches are off the needles pull tight and weave in all the loose ends. 
Make a pom pom using your favorite method and tie to the top. OR if you want it extra floofy add a faux fox pom pom.
Ta da!
I enjoy working with Knitpicks yarns for most of my knitting projects if I don't end up spinning the yarn myself. The links below are affiliate links which means I make a small percentage commission if you purchase through the link. Most likely, I'll turn that commission into more yarn purchases.
or - 2 hanks Mighty Stitch Super Bulky CREAM
1 hank Mighty Stitch Super Bulky BLACK
PLEASE NOTE: this pattern is my original work and as such is copyright protected. You may not repost this pattern without express written permission. If you'd like to use this pattern for personal knitting and gifting, rock on with your bad self! If you'd like to use this pattern to make hats to sell, that's totally fine, too, just make sure that you link back to gravescopottery.com in any listings, social media posts and on tags. I'm never going to make these hats to sell but I'd love that you reciprocate by linking back to our pottery site! Let's lift each other up. I often have people asking to purchase the hat and since I don't knit to sell, I'd love to share your link if you do. Drop me a message or DM on instagram and I'll share your info when someone asks.