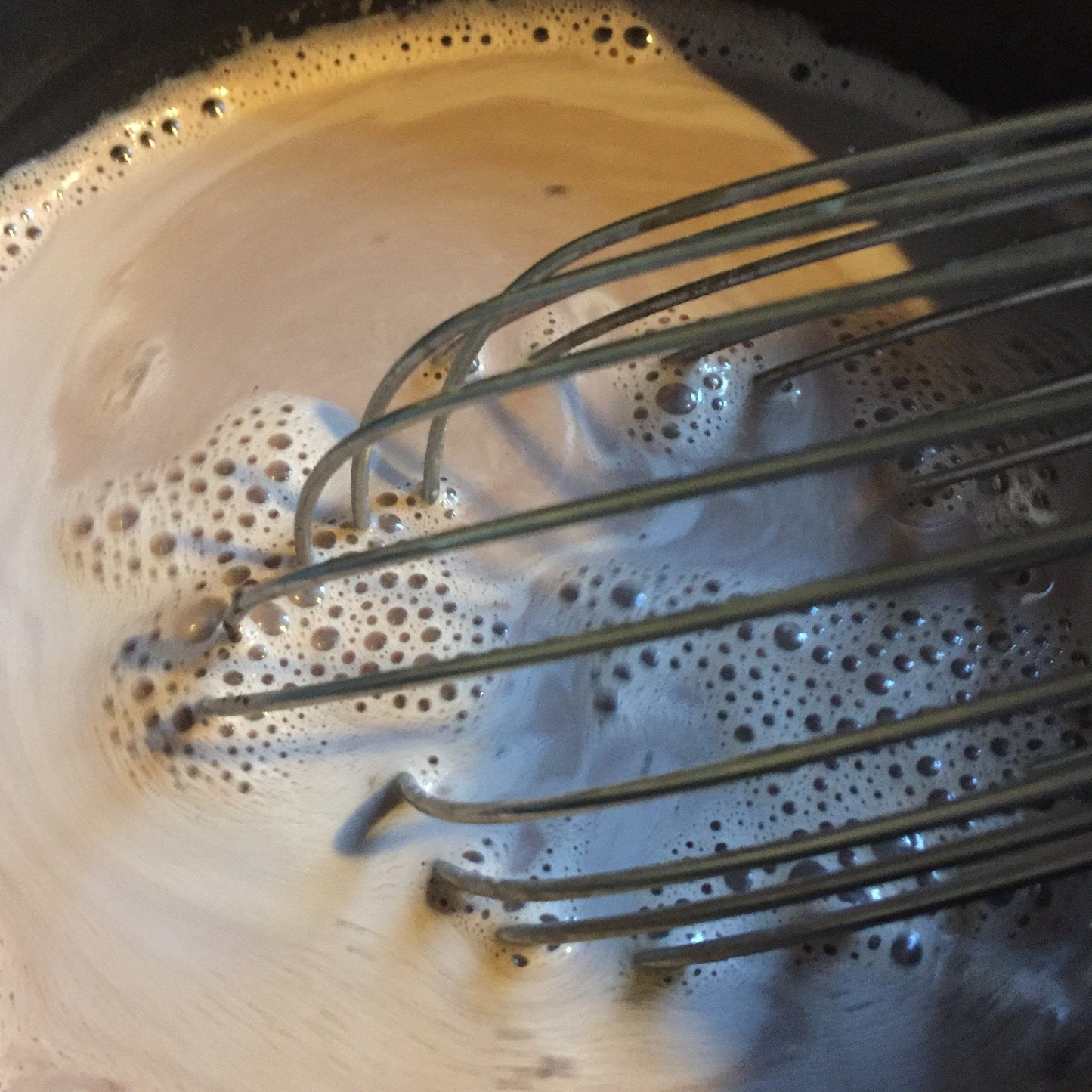 Looking out the studio window at the beautiful snowfall, it's definitely time to start the daily hot cocoa tradition.  Ok.  Really, it's more of an obsession for me this time of year. I like to make it the "old fashioned" way when I can.
The ingredients are simple and wholesome. The possibilities for variations are numerous.
Here's the basic recipe to start with:
Ingredients:
2 Tablespoons unsweetened cocoa powder (I use dark cocoa)
2 Tablespoons Sugar (or honey, agave, whatever you prefer)
1/4 teaspoon vanilla (use the real stuff.  Trust me.)
Pinch of salt (I like pink Himalayan)
1 Cup of Milk (any kind of milk you want. I like whole organic milk. You can use soy, almond, rice, oat, whatever floats your boat.)
In a small saucepan over low heat, whisk together 2 Tablespoons of milk with the cocoa, sugar, and salt until it's all blended and a yummy dark chocolate syrup.  Add the remainder of the milk.  I usually use a little more than a cup of milk, but basically, the rule here is to add enough so it looks as chocolatey as you want it. Continue stirring until it's heated.  Just before pouring it into your favorite handmade mug, add the vanilla.
Now here's the fun part.
Sometimes I like to add:
A pinch of Saigon Cinnamon
A pinch of cayenne pepper
A tea bag of my favorite chai tea blend while heating and mixing for a little spiciness
A shot of espresso
A 1/4 teaspoon of green tea matcha powder
Marshmallows.  DUH.
Whipped Cream (I make it with a couple tablespoons of heavy cream, a teaspoon powdered sugar and a drop or two of vanilla then whip it up with a whisk or mixer or little milk frother I bought at IKEA).
Caramel.  Oh yeah.  Caramel.
While I sit here in the studio working on pots, sipping my oh so delicious cocoa, I encourage you to take a few moment to indulge in the kitchen ritual and pamper yourself. There's just nothing better than homemade hot cocoa in a handmade mug on a blustery cold day.