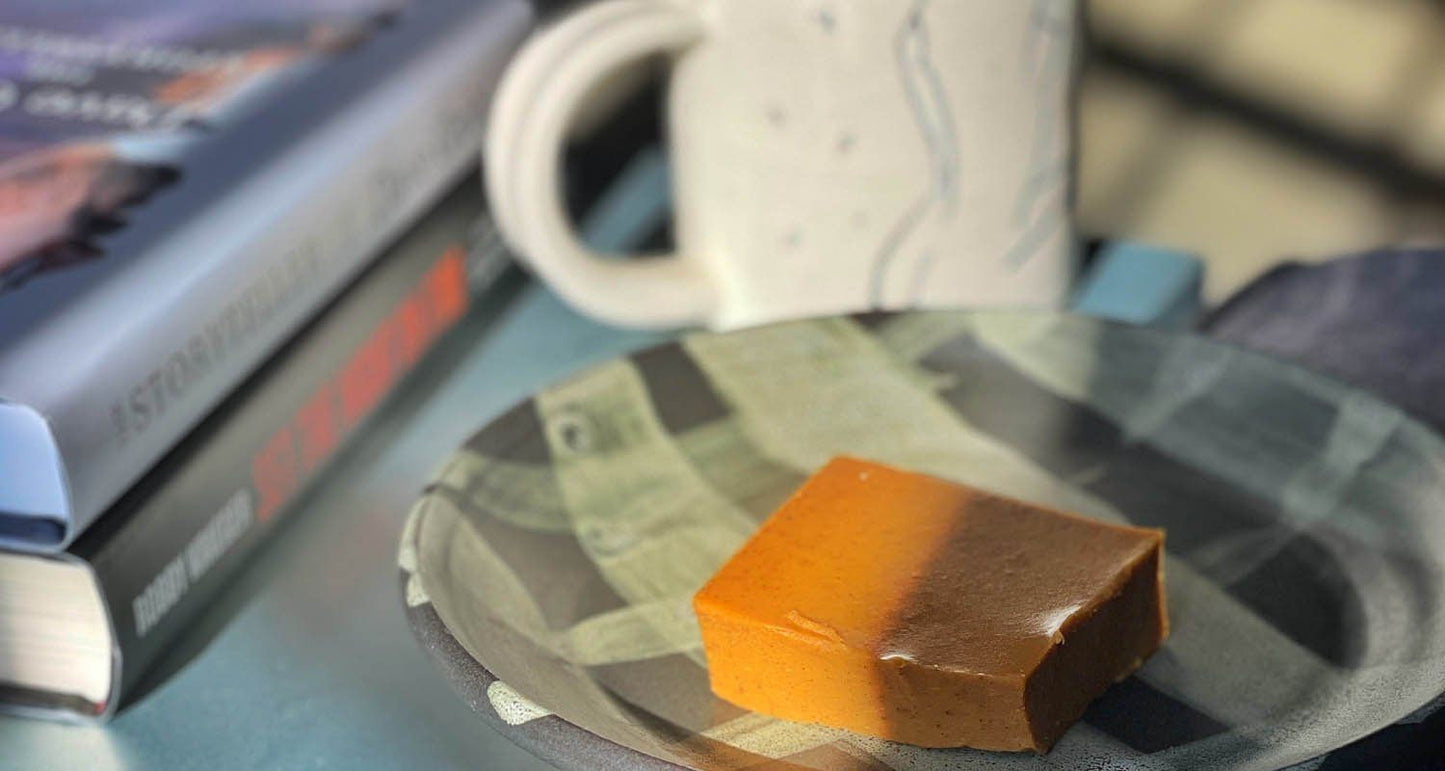 If you've been following me on Instagram you know that I've been working my way through Dr. Will Cole's anti-inflammation diet protocol and the results have been amazeballs.
I have Sjogren's Syndrome which is an autoimmune disease that causes my immune system to attack the moisture producing glands throughout my body. The ultimate result of that means that inflammation is a real bitch and causes pretty constant and intense joint pain on top of a myriad of digestive issues, dry eyes and dry mouth. I started the inflammation diet protocol to calm the inflammation and it has relieved most of my symptoms so far, I've lost about 60 lbs (which wasn't the goal but I'll take it) and am moving so much more freely. The big win is that I'm waking up in the morning pain free and I don't remember the last time that happened.
The one thing I was a little sad about when I started the protocol was not having pumpkin pie. To be totally honest, though, I really don't like pie crust. It's the pie guts I love. OMG LOVE. I'm the monster who eats the pie filling out of the pie and leaves the crust behind. I know. I know. It's a hot mess on a plate when I'm done but I don't care. I used to just make a pumpkin custard and have that for breakfast all autumn and into the winter. You can find that recipe here if you're not doing the whole Paleo and AIP thing. I have to tell you, though, that this is easier to make and I'd eat it on purpose.
So without further ado I'm going to jump into this recipe for Pumpkin Pie Protein Bars that are AIP (anti inflammation protocol) friendly and are also fab if you're eating a paleo diet.
It takes about 20 minutes to prep these and another 2 hours for them to set up in the fridge before you can mow through them.
The flavor is straight up pumpkin pie and the texture is a little firmer. The real bonus is that they travel well in a ziplock or reusable silicone container because they are firm.
I purchased all the ingredients at Thrive Market and if you'd like to check them out, you can join with my referral link here. You'll get 30% off your first order and I'll get a credit on my next order. You'll find the links to all the ingredients I love below. Feel free to use whatever brands you love - obviously.
Ingredients:
Line an 8x8 or loaf pan with parchment paper. You can grease the pan with coconut oil instead if you want to but I didn't love how it made the outside of the bars feel. I preferred the parchment paper.
Measure out the gelatin and collagen peptides. I like to add them to a small bowl or mise en place so when it's time to add them I don't have to mess around with the container and measuring.
In a pan on the stove combine the coconut milk, maple syrup and spices on low-medium heat and stir until everything is starting to combine. Add the can of pumpkin and whisk until all the lumps are gone and it is full incorporated. If there are any lumps fish them out so it's not a gross bite when you dig in later.
Continue to stir and increase the heat to medium-high. Keep whisking so it doesn't stick to the bottom of the pan until it is just starting to boil.
Take the pan off the heat and while whisking continuously begin to add the collagen peptides and gelatin a little at a time completely whisking them in so they don't clump. No one wants gelatin clumps. Ew. Also make sure you're getting the gelatin off the sides of the pan and reincorporated. This took me about 2-3 minutes to get it all in a little at a time and well mixed.
Once you have it all blended together pour it into the parchment lined pan and pop it in the fridge for a couple hours.
When it's set up, plop it out of the pan and cut into six bars. A single serving is 1/6th of the recipe but if you'd like them as more of a snack/dessert type of morsel you may want to cut them into smaller squares.
If you want to switch it up, you could add 1/2 cup of coffee or one shot of espresso to the recipe. If you add the coffee, add another tablespoon of gelatin to make up for the extra liquid. If you add a shot of espresso there is no need to add more gelatin. 
This morning I grabbed one on my way out the door to the studio and I have to say, it was delicious with a travel mug of Circadian Coffee with frothed almond milk. Who knew nutritious foods could taste so good?
If you give the recipe a try, post it on Instagram and tag me at @gravesco. I'd love to see your creation and will share it in my stories, too! I hope you love it!